In 2017, it is definitely time to jump into the 4K waters. There is plenty of UHD content nowadays, and pricing for these displays are finally reasonable.
AOC is known for producing quality monitors at affordable prices, and the company has a new offering that reaffirms that. The all-new premium 32-inch (technically 31.5-inch) 4K UHD Display (U3277PWQU) is chock full of great features, such as an integrated USB hub, and it is available immediately.
"The AOC U3277PWQU features 4K UHD resolution (3840 x 2160 pixels) and a VA panel for high responsiveness and a wide color gamut. This high resolution allows graphic designers and photographers to experience four times the detail of a digital image without needing to zoom in or out, making professional image editing more enjoyable and precise. Similarly, users working with data-intensive or multiple applications profit from the large screen real-estate, while wide viewing angles allow for color uniformity from almost every angle. The display also comes with a 60 Hz refresh rate and a short response time, making it equally appealing for gaming enthusiasts who require crisp 4K visuals," says AOC.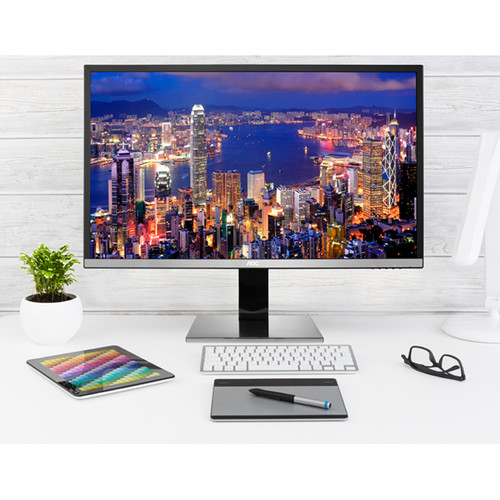 The company further explains that this monitor, "is equipped with multiple ergonomic features such as height-adjustment, swivel, pivot and tilt options for improved comfort, especially during longer periods of working. AOC Flicker-Free technology regulates the monitor's brightness to reduce flickering of the screen and relieve eye discomfort and fatigue. The display features DisplayPort, HDMI 2.0, DVI, VGA, and USB 3.0 connectors, which allows for fast data transfer and charging of mobile devices. The AOC U3277PWQU is also equipped with a PiP (Picture-in-Picture) and a PbP (Picture-by-Picture) function, for increased productivity, allowing users to display content from two different sources at the same time through an inset window or a split screen."
This slideshow requires JavaScript.
AOC shares the following specifications.
31.5-inch with 3840 x 2160 4K UHD Resolution
VA panel for wide viewing angles
VGA, DVI, HDMI-MHL, Display Port connectivity
4 total USB ports: 2x USB 3.0 (with 1 being a fast-charger) and 2x USB 2.0 ports
Flicker-free for reduced eye fatigue
Sleek design with full adjustability
If you want to buy this 4K display, it can be had on Amazon for $699 here. If you are a fan of saving money, however, it is being sold by B&H Photo with a $200 discount — get it for $499 here. The monitor is currently on back order at that retailer, but you can still order it.